Interior installation & refurbishment
Specialist in kitchen and bathroom fitting, bespoke interior installation and house and office
Ideas, advices and practical information

Decorating
Decorating is usually not a difficult task. No matter if painting walls or wood works, rules are quite simple. Here are the most important tips to keep on mind for any DIYer:
Choosing colour – pick as many samples or charts from shop as you like. But most importantly, paint chosen color on apart of actual wall. No matter how real the colors on charts are the light direction and wall surface is always different and very often it can trick your eye.
When decorating– start from ceiling (corners, picture rail, etc.) All flat area youcan do from the ground using telescopic pole. Then you start on walls, again corners, all details and then use roller.  Make sure all walls and ceiling are free from dust, spider nets or black dirt from fire place (if been used) Use sugar soap if necessary. Don't have to mention dust sheets to protect your furniture and floor.
When painting woodworks – You can use single coat paint that covers all steps (in ideal scenario) or use undercoat before top coat such as gloss. Sometime when satin wood paint is used sanding the surface to make good key might be enough.
Painting outdoor surfaces (or windows) – use linseed oil base primer on bare wood (or even add some to white spirit based primer), then undercoat and finish. It is recommended not to use water based paint for the outside in general. For any holes almost any size use two part plastic filler, it is quick drying, very stable and easy to sand and shape.
These are just very basic tips and we will keep adding more. If you haven't found answer to your question please don't hesitate to contact us.
Painting colour samples on actuall wall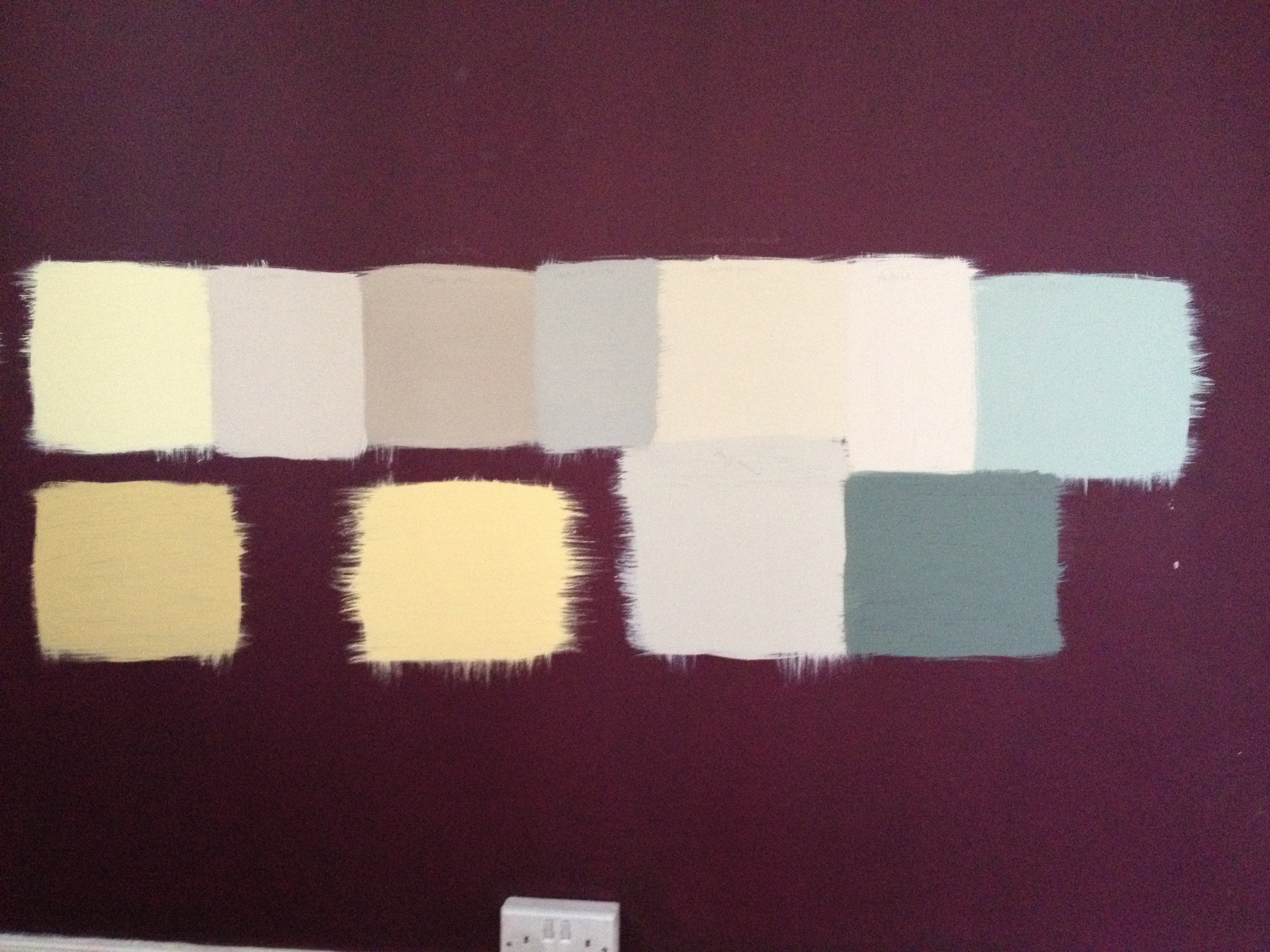 Here is my personal savior
19.01. 2014
Just recently was redecorating an old ceiling which was originally covered by lining paper and on top of that polystyrene tiles. Even after removing all, washing, sanding and treating with a stain blocker big yellow marks were coming trough on the whole ceiling even after a couple of coats of emulsion. After using Crack Free paint which also works as a filler for uneven and cracked surfaces brilliant white finish was left after one coat with smooth finish. I'm not a great fan of DIY stuff but this works brilliantly!